Linear Microthin Strobe Lights
Model 20.1850
Linear design creates a wide-angle light beam for superior warning power.
Compact size fits in many applications.
Field-replaceable 4" linear Xenon flash tube. (20 watt max.)
Replaceable polycarbonate lens available in amber, blue, clear and red.
SAE-certified in all safety colors.
Made in the U.S.A.
Specifications
Input:
12 volts
Output:
20 Watts Max. / 22 Joules
Dimensions:
With Bracket:
2-1/2" H x 2-1/2" D x 6-1/4" L
Without Bracket:
1-9/16" H x 2-1/2" D x 6-1/4" L
Wiring:
(1) 15' shielded cable
Suggested Retail Price
Suggested retail price
20.1850
Linear Microthin Strobe Light
$ 210.74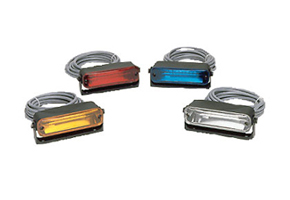 Click on thumbnail image to open enlarged view.
Parts and Accessories
Suggested retail price
20.1825
Headliner Bracket
$ 25.50
20.1880
Repl. Tube / Reflector Assembly
$ 79.76
20.1885
Repl. Lens - Solid Color
$ 23.40
Instructions

| | | |
| --- | --- | --- |
| 20.1850 | Instructions | View PDF |