Luminator MicroDash Light
Model 12.1840
Four 3W Luminator LEDs incorporate Total Internal Reflection optics to provide exceptionally bright light.
Diffusing lenses on the two outer Luminator LEDs disperse light horizontally. The middle two Luminator LEDs provide concentrated forward light.
Internal flasher has seven strobe-style patterns.
LEDs on back of light housing indicate flash patterns.
Housing-mounted, soft- touch power and mode switches provide convenient control of the light.
Available in solid or split arrays of amber, blue, green, red and white.
An assortment of mounting accessories are included with each light: windshield bracket, bail-mount bracket, Velcro disks for surface mounting and flashback shield.
Rear power cable location.
Made in the U.S.A.
Specifications
Voltage:
12 volt
Amperage:
1.5 amps max per light
Dimensions:
1-3/4" H x 5-7/8" W x 6-1/4" D


(without bail bracket)

Weight:
13 oz.
Wiring:
10 foot cable / adapter plug
Suggested Retail Price
Suggested retail price
12.1840
MicroDash Light - all colors
$ 309.04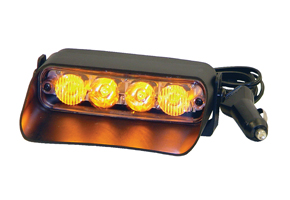 Click on thumbnail image to open enlarged view.
Flash Patterns

| | |
| --- | --- |
| 1. | Double Alternating |
| 2. | Quad Alternating |
| 3. | Quint Alternating |
| 4. | MEGA Alternating |
| 5. | Double Simultaneous |
| 6. | Quad Simultaneous |
| 7. | Random |
Parts and Accessories
Suggested Retail Price
11.1825
Headliner Bracket
$ 25.50
90.6487
Bail Bracket
$ 12.40
90.6488
Windshield Bracket
$ 16.18
Instructions

| | | |
| --- | --- | --- |
| 12.1840 | Luminator MicroDash Light | View PDF |