SHO-OFF® LED Low-Profile
Stretch Light Bars
Models 12.1327S / 12.1327D / 12.1337S / 12.1337D / 12.1347S / 12.1347D / 12.1357S / 12.1357D / Custom Lengths
Maximize your lighting options with the Stretch series of LED Light Bars. Choose the length of light bar your installation requires, then pick either a single or double tier of SHO-OFF LEDs for the intensity you desire.
Four basic lengths (27" 37", 47" and 57") are suitable for a wide variety of vehicles.
Additional lengths ranging in 10" increments from 67" to 97" accommodate large vehicles.
Exceptionally bright 3W LEDs with reflectors provide highly visible, wide-angle light even in bright sunlight.
Choice of single or double tiers of SHO-OFF LEDs in five colors: amber, blue, green, red and white.
Basic models have a standard flasher with fifteen selectable patterns.
On basic double tier models, the deluxe flasher enables independent operation of top LED tier, bottom LED tier or both tiers simultaneously. Built-in arrow patterns can continue operating while the remaining LEDs function in the selected pattern.
Customize any light bar length with your choice of optional features.
Optional alley and take-down lights.
Optional Stop / Turn / Tail feature coordinates auxiliary lights with vehicle lights.
Optional LED Signal Stick controller provides additional arrow patterns.
Low-profile design improves aerodynamics.
Heavy-duty extruded aluminum base.
UV-resistant polycarbon dome with gasket.
Includes single or double tier of 3W LEDs, mounting kit, standard adapter brackets and 15-foot hardwire cable.
Specify driver- or passenger-side cable exit.
Low-Profile Stretch Bars are also available with Luminator LEDs and with Standard LEDs.
12 Volt
Made in the U.S.A.
Specifications
Basic Models 12.1327S / 12.1327D 27" Light Bar
18A Max / 9A Avg
3W LEDs - 1 Tier 72 / 2 Tier 144
4" H x 9-1/8" W x 27" L
Basic Models 12.1337S / 12.1337D 37" Light Bar
24A Max / 12A Avg
3W LEDs - 1 Tier 96 / 2 Tier 192
4" H x 9-1/8" W x 37" L
Basic Models 12.1347S / 12.1347D 47" Light Bar
30A Max / 15A Avg
3W LEDs - 1 Tier 120 / 2 Tier 240
4" H x 9-1/8" W x 47" L
Basic Models 12.1357S / 12.1357D 57" Light Bar
36A Max / 18A Avg
3W LEDs - 1 Tier 144 / 2 Tier 288
4" H x 9-1/8" W x 57" L
Custom Models
Amps and Number of LEDs vary with Length & Options
4" H x 9-1/8" W x 67" - 97" L
Suggested Retail Price
Suggested retail price
12.1327S
Basic 27" Single Tier
$ 1,699.74
12.1327D
Basic 27" Double Tier
$ 3,123.46
12.1337S
Basic 37" Single Tier
$ 2,230.20
12.1337D
Basic 37" Double Tier
$ 4,089.08
12.1347S
Basic 47" Single Tier
$ 2,730.00
12.1347D
Basic 47" Double Tier
$ 5,024.02
12.1357S
Basic 57" Single Tier
$ 3,337.58
12.1357D
Basic 57" Double Tier
$ 6,115.58
Custom Models
Prices vary with length and options.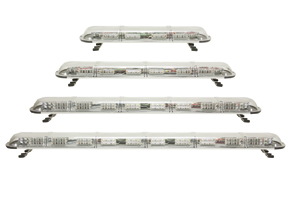 Click on thumbnail image to open enlarged view.
Flash Patterns

| | |
| --- | --- |
| 1. | Quad Alternating |
| 2. | Single - 120 FPM |
| 3. | Single - 240 FPM |
| 4. | Dual Light Rotating Flash |
| 5. | Single Light Rotating Flash - Fast |
| 6. | Sequence All then Steady |
| 7. | Single Scan 2 |
| 8. | 25 millisecond ON / 25 millisecond OFF |
| 9. | Beacon Fade |
| 10. | Single Alternating - 90 FPM |
| 11. | Double Flash - ON |
| 12. | Quad Flash - ON |
| 13. | SuperMEGA then Steady |
| 14. | Random - All Non Sequential Patterns |
| 15. | Random - All Patterns |
Parts and Accessories
Suggested Retail Price
11.1227D
27" Replacement Dome
$ 107.44
11.1237D
37" Replacement Dome
$ 161.18
11.1247D
47" Replacement Dome
$ 214.92
11.1257D
57" Replacement Dome
$ 268.64
11.4959
Hi-Rise Legs - pair (2-3/8" H)
$ 45.58
33.0870
Headache Rack Brackets - (2)
$ 100.28