SHO-OFF®
Chameleon LED Light Bar
Models 12.1327CH / 12.1337CH / 12.1347CH / 12.1357CH / Custom Lengths
With the touch of a switch the Chameleon Light Bar can change from a multi-color warning light to a blazingly bright scene light.
White 3W LEDs alternate with colored 3W LEDs on the front of the light bar to provide a wide-angle scene light or a warning light depending on the situation.
Alternating LED colors in the back of the light bar alert and warn motorists.
LEDs are available in amber, blue, green, red and white.
Solid-state flasher features selectable patterns including random. Patterns vary depending on the light bar configuration.
Optional built-in signal stick and take-down lights are available upon request.
Optional stop-turn-tail function and alley lights are available for an additional charge.
Chameleon Light Bar lengths are available in 10" increments ranging from 27" to 97" with four standard lengths: 27", 37", 47" and 57". Custom lengths are available in 67", 77", 87", and 97". (Minimum length is 27".
Aerodynamic, low-profile housing.
Heavy-duty extruded aluminum base with gasket & UV-resistant polycarbon dome.
Specify driver- or passenger-side cable exit.
12 Volt
Made in the U.S.A.
Specifications
Models 12.1327CH 27" Light Bar
18A Max / 9A Avg
72 3W LEDs
4" H x 9-1/8" W x 27" L
Models 12.1337CH 37" Light Bar
24A Max / 12A Avg
96 3W LEDs
4" H x 9-1/8" W x 37" L
Models 12.1347CH 47" Light Bar
30A Max / 15A Avg
120 3W LEDs
4" H x 9-1/8" W x 47" L
Models 12.1357CH 57" Light Bar
36A Max / 18A Avg
144 3W LEDs
4" H x 9-1/8" W x 57" L
Custom Models
Amps and Number of LEDs vary with Length & Options
4" H x 9-1/8" W x 67" - 97" L
Suggested Retail Price
Suggested retail price
12.1327CH
27" Chameleon Light Bar
$ 1,750.74
12.1337CH
37" Chameleon Light Bar
$ 2,297.10
12.1347CH
47" Chameleon Light Bar
$ 2,811.90
12.1357CH
57" Chameleon Light Bar
$ 3,437.70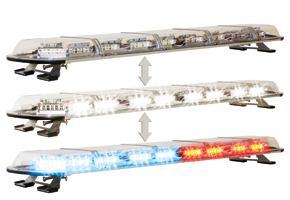 Click on thumbnail image to open enlarged view.
Parts and Accessories
Suggested Retail Price
11.1227D
27" Replacement Dome
$ 110.66
11.1237D
37" Replacement Dome
$ 166.02
11.1247D
47" Replacement Dome
$ 221.36
11.1257D
57" Replacement Dome
$ 276.70
11.4959
Hi-Rise Legs - pair (2-3/8" H)
$ 46.94
33.0870
Headache Rack Brackets - (2)
$ 103.28