LightStorm®
Split LED Signal Stick
12.6204.KIT-2
Directional LED light in a split configuration allows installation in compact commercial vans (including euro-style vans) and utility trucks.
Improves traffic flow around work scenes - keeps motorists and workers safe with attention-getting 3W Luminator LEDs.
High-performing 3W Luminator LEDs utilize Total Reflection optics for outstanding visibility.
Engineered for outstanding light distribution and spread: diffusing lenses on two-thirds of the Luminator LEDs spread light horizontally; the remaining third project light to the front.
Reliable, long-lasting Luminator LEDs are energy-efficient, maintenance-free and available in five colors: amber, blue, green, red and white.
Comes with a deluxe controller that has 12 selectable flash patterns, power switch, variable speed control dial and LED flash pattern indicator lights.
Linear regulators eliminate RF interference.
Plug-in connectors and integral T-slot mounting channels on back and underside simplify installation.
Durable extruded aluminum housing has a clear lens cover to protect LEDs from dust and debris.
End cable exit.
Suitable for interior or exterior installations.
Includes (2) lights, (1) controller, "L" brackets and (2) 15' cables.
Made in the U.S.A.
Specifications
Voltage:
12 volt
Amperage:
3A Max
Dimensions:
2-1/4" H x 2-3/8" D x 16-3/4" L

(Each)

1-3/8" H x 5-3/4" D x 6" L

(Controller)

Wiring:

15' power cable

s
Suggested Retail Price
Suggested retail price
12.6204.KIT-2
Split LED Signal Stick Kit
$ 814.92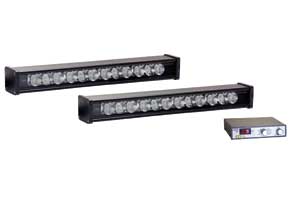 Click on thumbnail image to open enlarged view.
Flash Patterns

| | |
| --- | --- |
| 1. | Alternating Double Flash - Ends |
| 2. | Alternating Double Flash - Halves |
| 3. | Alternating Quad Flash - Ends |
| 4. | Alternating Quad Flash - Halves |
| 5. | Alternating Single Flash - Halves |
| 6. | Alternating Single Flash - All |
| 7. | Random |
| 8. | Left Arrow |
| 9. | Left Arrow - Double Flash End |
| 10. | Right Arrow |
| 11. | Right Arrow - Double Flash End |
| 12. | Center Out |
Parts and Accessories
Suggested Retail Price
11.4473
L Brackets - pair
$ 11.74
12.1004
Deluxe Controller
$ 379.56
Instructions

| | | |
| --- | --- | --- |
| 12.6204.KIT-2 | Split Signal Stick Kit | View PDF |