X-IT Lite
Models 10.1000 / 10.1100
Perfect for Rapid Intervention Teams. Enables fire fighters to locate the exit of a structure during a fire and signal mandatory evacuation.
Model 10.1000 incorporates a visual LED Beacon and an Audible Siren Alarm - both operated by housing-mounted waterproof switches.
Model 10.1100 is equipped with a switch-operated LED Beacon only.
Flashing 360° LED beacon marks building, floor or room exits.
Beacon features 6 Luminator (3 Watt) LEDs and a built-in quad flasher.
Built-in wail siren functions independently of beacon and can be used to signal evacuation. (Available on Model 10.1000 only.)
Convenient handles accommodate safety gloves and act as light guards.
Powered by a rechargeable 12 volt, 4.5A / hour, sealed, lead-acid battery system.
Operates continuously for 8 hours on one charge. (Tip: When not in use, leave the X-IT Lite on the charger so it will always be ready.)
3" fresnel lens comes in choice of amber, blue, clear, green or red.
Waterproof push button switch(es).
Includes your choice of AC charger (standard), DC plug-in charger or DC hardwire charger.
Specifications

| | |
| --- | --- |
| Voltage: | 12 volt |
| Dimensions: | 7-7/8" H x 7-1/2" W x 7-3/8" D |
Suggested Retail Price
Suggested retail price
10.1000
X-IT Lite with Siren
$ 372.66
10.1100
X-IT Lite without Siren
$ 372.66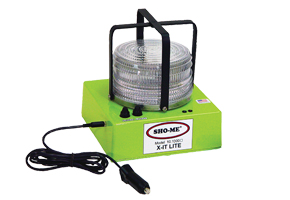 Click on thumbnail image to open enlarged view.
Parts and Accessories
Suggested Retail Price
10.2701
110V AC Wall Mount Charger
$ 18.96
10.2702
DC Plug-In Wall Mount Charger
$ 18.96
10.2703
DC Hardwire Wall Mount Charger
$ 18.96