Reverse Evacuation System
Model 35.1000 / 35.2000
Move students and staff inside quickly when dangerous situations arise.
Invaluable in instances of extreme weather, armed or aggressive persons, hazardous materials incidents, aggressive animals and air pollution alerts.
Reverse Evacuation mode alerts students and staff by continuously sounding a distinctive tone for 10 minutes or until manually disabled.
Active Shooter mode recreates the wail or yelp siren sound used by police or emergency vehicles. The sound will operate for 10 minutes or until it is manually disabled.
Lighted tactile switches easily activate each mode.
An internal, low-volume speaker allows the user to monitor the alarm sound from inside the building. Up to four external loudspeakers project warning sounds to the surrounding campus.
A 12V DC rechargeable, lead-acid battery provides power even during a power outage. 2 year warranty
Five year limited warranty on parts and labor.
Model 35.2000 has the same features as listed above except that the Reverse Evacuation mode also triggers an integrated 911 Dialer. The dialer plays a customized, pre-recorded message twice before automatically shutting off. (Dialer may be disabled during drills.)
Silent Alarm mode dials 911 only - without an audible siren sound.
Standard system includes a steel-enclosed control box, 100W loudspeaker, and 100' of premium- rated speaker wire. Control box is capable of operating up to four loudspeakers.
Made in the U.S.A.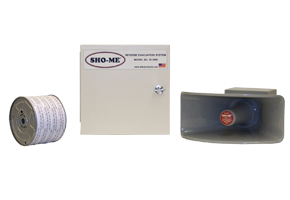 Click on a button to hear a siren sound.
Specifications

| | |
| --- | --- |
| Voltage: | 12 VDC |
| Control Box:: | 11-1/2" H x 11-3/4" W x 3-5/8" D |
| Loudspeaker: | 6-1/8" H x 14" W x 13" D |
Suggested Retail Price
Suggested retail price
35.1000
Standard R.E. System
Contact Factory
35.2000
Premium R.E. System
Contact Factory