Emergency
Rechargeable Lights
Models 09.AB72 / 09.AB73 / 09.EM34LED / 09.EM201LED
When the power goes off, the Emergency Rechargeable Light automatically comes on and provides safety lighting.
Includes all of the features of the standard LED and Halogen Rechargeable Lights PLUS a Power Failure feature.
POWER FAILURE feature provides safety lighting by enabling the light (positioned in an AC wall-mount charger) to automatically turn on when the electrical current to the charger fails. When power is restored, light turns off and automatically begins recharging.
A 6 volt, 4.5 amp/hour, sealed, lead-acid battery provides portable, cordless operation.
Battery can be recharged hundreds of times. To conserve battery life, the Emergency Rechargeable Light will turn off before the battery is deeply discharged.
Features built-in overcharge protection and battery condition lights.
Neoprene-booted toggle switch.
Light comes complete with one rechargeable battery and AC charger.
Choice of black, blue, red, safety green or yellow housings. Also available in pink camouflage.
Made in the U.S.A.
Specifications

| | |
| --- | --- |
| Voltage: | 6 volt |
| Dimensions: | 5-1/2" Diameter x 9" L |
Suggested Retail Price
Suggested retail price
09.AB72
Halogen Emergency - Spot
$ 134.20
09.AB73
Halogen Emergency - Flood
$ 134.20
09.EM34LED
LED Emergency - Flood
$ 155.84
09.EM201LED
LED Emergency - Spot/Flood
$ 177.46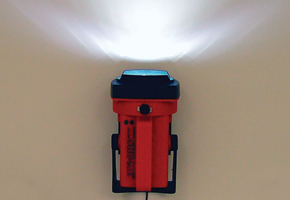 Click on thumbnail image to open enlarged view.
Parts and Accessories
Suggested Retail Price
09.0985
6 Volt Replacement Battery
$ 25.00
09.2701
110V AC Wall Mount Charger
$ 18.96
09.H7550
Replacement Halogen Spot Bulb
$ 25.00
09.H7551
Replacement Halogen Flood Bulb
$ 25.00
Instructions

| | | |
| --- | --- | --- |
| 09.AB72 | Halogen Emergency - Spot | View PDF |
| 09.AB73 | Halogen Emergency - Flood | View PDF |
| 09.EM34LED | LED Emergency - Flood | View PDF |
| 09.EM201LED | LED Emerg. - Spot/Flood | View PDF |