LED Rechargeable Lights
Models 09.201LED / 09.34LED
A proven performer available in both dual function spot / flood and single function flood models.
Perfect for electricians, plumbers, HVAC technicians, pest control operators - anyone who needs a room-illuminating light that lasts a long time on a single charge.
Model 09.201LED lets you switch from intense spot light to wide-angle flood light with the flip of a switch. One 5W LED projects a narrow 3° spot beam for up to 5 hours per charge. Twenty high-performance LEDs produce a wide-angle flood light for up to 50 hours per charge.
Model 09.34LED has 34 high-intensity LEDs in metallized reflective chambers that produce a flood light pattern. Capable of 25+ hours of continuous run time on a fully-charged battery. Projects a whiter, brighter light than halogen models.
100,000 hour bulb life ensures long-lasting light and reliable performance.
Maintenance-free LED array creates a clear bright white light.
Multi-position adjustable base has positive-locking ratchets that hold the light beam in place.
Professional-grade rechargeable battery provides dependable, portable, cordless operation - field-tested for more than 25 years.
Engineered to prohibit deep battery discharge. Low amp draw conserves battery life.
Recyclable 6 volt, 4.5 amp/hour, sealed, lead-acid battery can be recharged hundreds of times.
Built-in overcharge protection light and battery condition indicator.
Neoprene-booted, weather-proof, center-off toggle switch controls flood and spot functions.
Contoured "sure-grip" handle is sized to accommodate large hands.
Quick-release charging base is available in three styles: 110V AC, DC Plug-In or DC Hardwire Charger.
Non-conductive housing is available in your choice of blue, red, safety green or yellow.
Optional Night Eye LED tail lights function in either flashing mode or steady-burn. (Available for an additional charge.)
Each model measures 5-1/8" Diameter x 9" Long.
Light comes complete with one rechargeable battery and choice of AC, DC or DC hardwire charger.
Five year warranty on LEDs.
Made in the U.S.A.
Specifications

| | | | |
| --- | --- | --- | --- |
| Model | Beam | Watts | Run Time |
| 09.201LED | Spot/Flood | 6W | Up to 50 Hours |
| 09.34LED | Flood | 1.25W | 25+ Hours |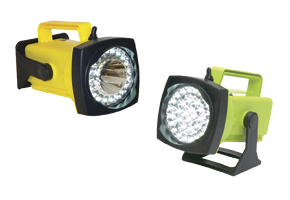 Click on thumbnail image to open enlarged view.
Suggested Retail Price
Suggested retail price
09.201LED
LED Rechargeable Spot / Flood
$ 172.00
09.34LED
LED Rechargeable Light - Flood
$ 152.00
Parts and Accessories
Suggested Retail Price
09.0985
6 Volt Replacement Battery
$ 27.00
09.1100
Night Eyes LED Tail Lights - pair
$ 31.60
09.2701
110V AC Wall Mount Charger
$ 20.10
09.2702
DC Plug-In Wall Mount Charger
$ 20.10
09.2703
DC Hardwire Wall Mount Charger
$ 20.10
09.3007
Stow-Away Charging Center
$ 97.68
09.3014
Wall-Mount Rack w/ Power Supply
$ 402.12
Instructions

| | | |
| --- | --- | --- |
| 09.201LED | LED Rechargeable Spot / Flood | View PDF |
| 09.34LED | LED Rechargeable - Flood | View PDF |