Halogen Rechargeable Lights
Models 09.AB70 / 09.AB71
Field-tested for over 25 years, these reliable lights won't leave you in the dark!
Model 09.AB70 has a 25,000 CP halogen spot bulb.
Model 09.AB71 has a 550 CP halogen flood bulb.
Both spot and flood bulbs operate 3 to 4 hours on steady beam or 6 to 8 hours intermittently on one charge.
Recyclable, 6 Volt, 4.5 Amp / Hour, sealed, lead-acid battery provides portable, cordless operation and can be recharged 100 - 500 times, depending on the depth of discharge.
Built-in overcharge protection and battery condition lights are standard features.
Neoprene- booted toggle switches withstand wet conditions.
Contoured "sure-grip" handle is sized to accommodate large hands.
Multi-position adjustable base with positive-locking ratchets maintains the desired angle of light.
Quick-release charging base is available in three styles: 110V AC, DC Plug-In or DC Hardwire Charger.
Non-conductive housing is available in your choice of blue, red, safety green or yellow.
Both models come complete with one rechargeable battery, choice of AC, DC plug-in or DC hardwire charger, and choice of spot or flood GE bulb.
Optional Night Eye LED tail lights function in either flashing mode or steady-burn. (Available for an additional charge.)
Each model measures 5-1/8" Diameter x 9" Long.
Made in the U.S.A.
Specifications

| | | | |
| --- | --- | --- | --- |
| Model | Beam | Watts | Candlepower |
| 09.AB70 | Spot | 8W | 25,000 CP |
| 09.AB71 | Flood | 8W | 550 CP |
Suggested Retail Price
Suggested retail price
09.AB70
Halogen Rechargeable - Spot
$ 132.00
09.AB71
Halogen Rechargeable - Flood
$ 132.00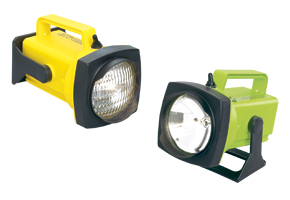 Click on thumbnail image to open enlarged view.
Parts and Accessories
Suggested Retail Price
09.0985
6 Volt Replacement Battery
$ 28.00
09.1100
Night Eyes LED Tail Lights - pair
$ 31.60
09.2701
110V AC Charger
$ 20.10
09.2702
DC Plug-In Charger
$ 20.10
09.2703
DC Hardwire Charger
$ 20.10
09.3007
Stow-Away Charging Center
$ 101.58
09.3014
Wall-Mount Rack w/ Power Supply
$ 418.20
09.H7550
Halogen Spot Bulb - 25,000 CP
$ 28.00
09.H7551
Halogen Flood Bulb - 550 CP
$ 28.00
Instructions

| | | |
| --- | --- | --- |
| 09.AB70 | Halogen Rechargeable - Spot | View PDF |
| 09.AB71 | Halogen Rechargeable - Flood | View PDF |