Three-Function
Undercover Sirens
Models 30.2106 / 30.2109
This undercover siren effectively alerts the public to pending danger with your choice of Wail, Yelp and Phaser or Wail, Yelp and Air Horn sounds.
The control panel is designed for easy access and mounts discreetly under the dash. Its powder-coated, L-shaped, aluminum bracket houses (1) center-off rocker switch for wail and yelp sounds and (1) momentary rocker switch for your choice of phaser or air horn sounds.
The compact amplifier conveniently fits in remote locations. Its advanced design stays cooler to the touch and is engineered to withstand high-voltage spikes and reverse polarity.
Designed to power one 100W RMS speaker with an 11 ohm impedance. (Speaker sold separately.)
Solid-state electrical components provide years of dependable service.
Includes amplifier, wire assembly and a remote panel.
Made in the U.S.A.
Specifications

| | |
| --- | --- |
| Voltage: | 12 volt |
| Watts: | 100 watts |
| Amperage: | 10A Average / 15A Max |
| Amplifier Size: | 2-3/8" H x 5-3/8" D x 4-3/8" L |
| Switch Size: | 2" H x 1-3/4" D x 2" L |
Suggested Retail Price
Suggested retail price
30.2106
Siren w/ Wail, Yelp & Phaser
$ 281.76
30.2109
Siren w/ Wail, Yelp & Air Horn
$ 281.76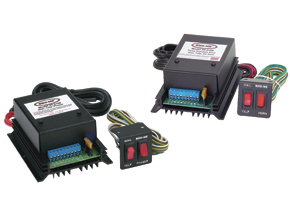 Click on thumbnail image to open enlarged view.
Click on a button to hear a siren sound.
Parts and Accessories
30.0107
Foot Switch
$ 45.88
30.2112
Switch & Wire Assembly - 30.2106
$ 65.00
30.2114
Switch & Wire Assembly - 30.2109
$ 65.00
View our selection of speakers
more
Instructions

| | | |
| --- | --- | --- |
| 30.2106 | Siren w/ Wail, Yelp & Phaser | View PDF |
| 30.2109 | Siren w/ Wail, Yelp & Air Horn | View PDF |