Short Arrow Boards
Model 02.6300 / .6316 / .6334 / .6352
Space-saving length makes these arrow boards ideal for escort vehicles and emergency repair crews.
Eight 4" diameter amber lamps in a 40.5" long housing.
PAR 36 lamps are available in four styles:
(1) Standard LED - 16 LEDs per lamp,
(2) Mega-Bright LED - 34 LEDs per lamp,
(3) Ultra-Bright LED - 52 LEDs per lamp,
(4) Incandescent.
60 single FPM in four operational modes: right arrow, left arrow, double arrow and center bar.
Control box has two "center off" rocker switches, flash pattern indicator lights, a 20-foot pre-wired harness, and a bail bracket for cab mounting.
Heavy-gauge, epoxy-coated aluminum construction.
Durable ABS plastic dust cover protects wiring from weather and dust.
Standard plug-in connectors allow easy removal and reattachment.
Mounting brackets sold separately.
Comes with 8 lamps, control box with a 20-foot pre-wired heavy-duty harness, plug-in connectors and plastic dust cover.
Also available in a self-contained model.
Made in the U.S.A.
Specifications
Voltage:
12 volt
Amperage:
1.6 amps max

(Standard LED lights)

2.4 amps max

(Mega-Bright LED lights)

5.2 amps max

(Ultra-Bright LED lights)

17.0 amps max

(Incandescent)

Dimensions:
13" H x 40-1/2" L x 3" D

(Arrow Board)

1-1/4" H x 6" W x 6-1/4" D

(Control Box)

Wiring:
20 ft. pre-wired heavy-duty harness
Suggested Retail Price
Suggested retail price
02.6300
Short Board

(Incandescent)

$ 603.14
02.6316
Short Board

(Standard LEDs)

$ 906.36
02.6334
Short Board

(Mega-Bright LEDs)

$1,003.28
02.6352
Short Board

(Ultra-Bright LEDs)

$1,333.00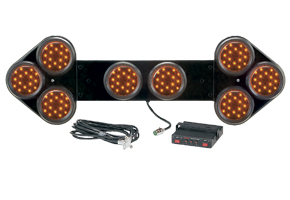 Click on thumbnail image to open enlarged view.
Flash Patterns

| | |
| --- | --- |
| 1. | Right Arrow |
| 2. | Left Arrow |
| 3. | Double Arrow |
| 4. | Center Bar |
Parts and Accessories
Suggested Retail Price
02.6016
Magnetic Mounting Bracket

(pair)

$ 130.10
02.6017
Permanent Mount. Bracket

(pair)

$ 63.14
02.6018
Tailgate Mounting Bracket

(pair)

$ 93.56
02.6029HD3
Control Box
$ 303.60
02.6032
Regular Lamp Assembly
$ 17.52
02.6042
Hinged Assembly

(for 02.6017)

$ 49.56
02.6225
Flush Mount Brackets

(pair)

$ 52.68
02.8516.A00
Standard PAR 36 LED Light
$ 56.18
02.8534.A00
Mega-Bright PAR 36 LED Light
$ 74.08
02.8552.A00
Ultra-Bright PAR 36 LED Light
$ 107.30
90.6257
Replacement Lens
$ 6.32
92.1156
Replacement 27W Bulb
$ 1.60