12V Portable
Two-Piece LED Arrow Boards
Models 02.6216WP / 02.6234WP / 02.6252WP
Bring the warning power of an LED arrow board with you wherever you go.
An internal waterproof flasher eliminates the need for a separate control box. Just plug the arrow board cable into a 12V outlet, set your pattern and go!
Split housing mounts on bucket trucks and other vehicles where a traditional arrow board would be difficult to position.
Each panel is available with five amber PAR 36 LED lamps in a selection of three intensities: Standard PAR 36 LED, Mega-Bright PAR 36 LED and Ultra-Bright PAR 36 LED.
Six heavy-duty threaded inserts in each panel accommodate a variety of mounting applications.
Warn oncoming motorists and keep workers safe with four operational modes (60 FPM): right arrow, left arrow, double arrow and corner caution lamps.
Pattern selection is controlled by two center-off toggle switches located on the arrow board housing.
Each panel measures 13" H x 2-1/2" D x 24" and is constructed of sturdy, heavy-gauge, epoxy-coated aluminum.
All Two-Piece models include a heavy-duty, abrasion-resistant, 20' power cable with adapter plug and an 8' connector cable.
Mounting brackets are sold separately.
Made in the U.S.A.
Specifications

| | | |
| --- | --- | --- |
| Model | Amps | Bulb |
| 02.6216WP | 2.0 Max | 16 LEDs |
| 02.6234WP | 3.0 Max | 34 LEDs |
| 02.6252WP | 6.5 Max | 52 LEDs |
Suggested Retail Price
Suggested retail price
02.6216WP
Two-Piece - Standard LEDs
$ 1,339.62
02.6234WP
Two-Piece - Mega-Bright
$ 1,469.04
02.6252WP
Two-Piece - Ultra-Bright
$ 1,925.36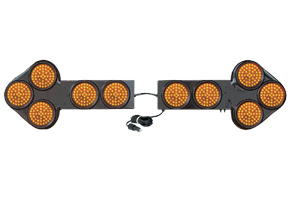 Click on thumbnail image to open enlarged view.
Flash Patterns

| | |
| --- | --- |
| 1. | Right Arrow |
| 2. | Left Arrow |
| 3. | Double Arrow |
| 4. | Corner Lamps |
Parts and Accessories
Suggested Retail Price
02.6018
Tailgate Mounting Bracket

(pair)

$ 103.24
02.6220
Magnetic Mounting Bracket

(pair)

$ 274.80
02.8516
Standard PAR 36 LED Light
$ 61.98
02.8534
Mega-Bright PAR 36 LED Light
$ 81.72
02.8552
Ultra-Bright PAR 36 LED Light
$ 118.40
Instructions

| | | |
| --- | --- | --- |
| 02.6216WP | Two-Piece - Standard LEDs | View PDF |
| 02.6234WP | Two-Piece - Mega-Bright | View PDF |
| 02.6252WP | Two-Piece - Ultra-Bright | View PDF |