Undercover Siren-Switch Box
with Mini Controller
Model 31.2515.4040
Operate four siren sounds and up to four different functions with just one Mini Controller measuring approximately the length and height of a credit card.
The top four switches on the Mini Controller keypad operate four digitally-enhanced siren sounds: Wail, Yelp, Phaser and Air Horn. The bottom four switches control up to four auxiliary functions.
Daylight viewable LED lights illuminate each tactile switch and highlight the selected function.
The compact Mini Controller measures just 1-7/8" H x 1/2" D x 3-1/8" L, enabling it to mount in tight spaces or fit comfortably within the palm of your hand. It connects easily to the Undercover Master Relay Switch Box with a plug-in attachment.
The Undercover Master Relay Switch Box features four 15A outputs that can control up to four auxiliary functions. Measuring a compact 2-3/8" H x 5-3/8" D x 4-3/8" L, it conveniently mounts in a remote location away from the mini controller.
The Undercover Siren Amplifier powers one 100W RMS speaker with an 11 ohm impedance. (Speaker sold separately.) At only 2-3/8" H x 5-3/8" D x 4-3/8" L, the amplifier is small enough to mount under the vehicle dash or seats.
Solid-state electrical components provide years of reliable performance.
Engineered to withstand reverse polarity and high-voltage spikes.
Kit includes (1) remote mini controller, (1) master relay box, (1) siren amplifier and all necessary wiring.
Made in the U.S.A.
Specifications

| | |
| --- | --- |
| Voltage: | 12 volt |
| Output: | (4) 15 amp each |
Suggested Retail Price
Suggested retail price
31.2515.4040
Undercover Siren-Switch Box
$558.92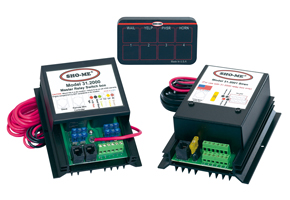 Click on thumbnail image to open enlarged view.
Click on a button to hear a siren sound.
Parts and Accessories
Suggested Retail Price
31.2000
Replacement Master Switch Box
$ 138.42
31.2001
Replacement Siren Amplifier
$ 353.10
31.2508
Replacement Mini Controller
$ 67.36
Instructions

| | | |
| --- | --- | --- |
| 31.2515.4040 | Undercover Siren-Switch Box | View |