LED Visor Light
Models 11.4000SF
This portable warning light is excellent for any emergency vehicle, but is especially suitable for use in unmarked or undercover vehicles.
Installation is simple: built-in hook and loop adjustable straps securely attach the light to the passenger-side sun visor.
Housing-mounted POWER and MODE switches are conveniently located for single-handed operation.
On all models with red LEDs, an additional switch turns on a steady-burning map light that provides light for general illumination or reading.
Eighty high-intensity LEDs are available in solid or split arrays of amber, blue, green, red or white.
An internal flasher produces seven selectable flash patterns. Built-in pattern memory recalls the last pattern used.
Includes a 10' power cord with a fused adapter plug.
Bottom cable exit.
An optional covert cover with ID sign is available.
12 Volt / 5 year warranty
Made in the U.S.A.
Specifications

| | | | |
| --- | --- | --- | --- |
| Model | Amp | LEDs | Dimensions |
| 11.4000SF | 1.0A | 80 | 3-3/8" H x 3/4" D x 8-3/8" L |
Suggested Retail Price
Suggested retail price
11.4000SF
LED Visor Light
$ 292.24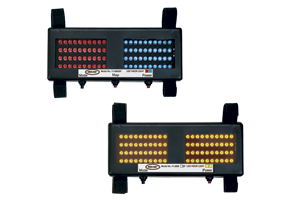 Click on thumbnail image to open enlarged view.
Flash Patterns

| | |
| --- | --- |
| 1. | Alternating - Double Flash |
| 2. | Alternating - Quad Flash |
| 3. | Alternating - Quint Flash |
| 4. | Simultaneous - Double Flash |
| 5. | Simultaneous - Quad Flash |
| 6. | Alternating - MEGA Flash |
| 7. | Random |
Parts and Accessories
Suggested Retail Price
20.0130
Covert Cover with ID Sign
$ 56.50
20.0131
ID Sign only
$ 18.34
Instructions

| | | |
| --- | --- | --- |
| 11.4000SF | LED Visor Light | View PDF |