LED Flasher with
Directional Patterns
Model 11.1010.ARROW
Make multiple LED lights or a single LED light stick function either as a directional light or as a warning light with this four-output, solid-state LED flasher.
With a total of 21 flash patterns available, the Model 11.1010.ARROW LED Flasher offers a selection of seven warning patterns, seven right arrow patterns and seven left arrow patterns.
Epoxy-sealed electronics provide reliable operation and protection against moisture, vibration and shock. Excellent for applications requiring exterior mounting.
Standard 12V; also available in 24V upon request.
Surface mounts with screws (provided).
Measures 2" H x 1/2" D x 4" L
For use with LED lights only.
Made in the U.S.A.
Specifications
O/P = Output
Model
O/P
Amps / O/P
Total Amps
11.1010.ARROW
4
2A Max each
6A Max
Suggested Retail Price
Suggested retail price
11.1010.ARROW
LED Flasher - Directional
$ 75.28
Instructions

| | | |
| --- | --- | --- |
| 11.1010.ARROW | LED Flasher - Directional | View PDF |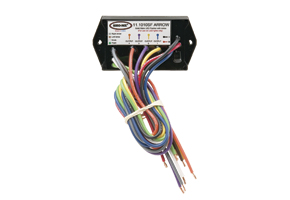 Click on thumbnail image to open enlarged view.
Flash Patterns

| | |
| --- | --- |
| 1. | Scan |
| 2. | Multi-Scan |
| 3. | Single Alternating |
| 4. | Quad Alternating |
| 5. | Quad Alternating 1-3 & 2-4 |
| 6. | Single Alternating 1-3 & 2-4 |
| 7. | Random |
| 8. | Scan Right |
| 9. | Chase Right |
| 10. | Right Arrow |
| 11. | Right Arrow - Double Flash End |
| 12. | Quad Scan Right |
| 13. | Quad Right |
| 14. | Random Right |
| 15. | Scan Left |
| 16. | Chase Left |
| 17. | Left Arrow |
| 18. | Left Arrow - Double Flash End |
| 19. | Quad Scan Left |
| 20. | Quad Left |
| 21. | Random Left |