Tripod Light Stand
Model 10.8400
Use this portable light stand with SHO-ME LED Scene Lighters to provide a well-lit environment for workers and motorists.
Elevate lights in 7" increments up to 66". A locking pin secures the adjusted height.
The central column and light mounting platform both rotate for precise positioning. Tension locking knobs hold the column and platform in place.
Light mounting platform measures 6-3/4" long by 4-1/2" wide.
Light Stand folds down to three feet high for storage.
Non-slip rubber feet and a wide base ensure stability.
Constructed of heavy-duty, 1-3/8" diameter, rigid metal tubing.
Lights and AC-DC LED power supply sold separately.
Suggested Retail Price
Suggested retail price
10.8400
Tripod Light Stand
$ 69.02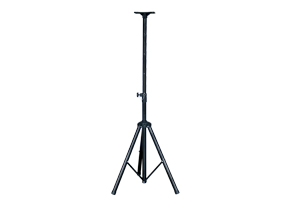 Click on thumbnail image to open enlarged view.